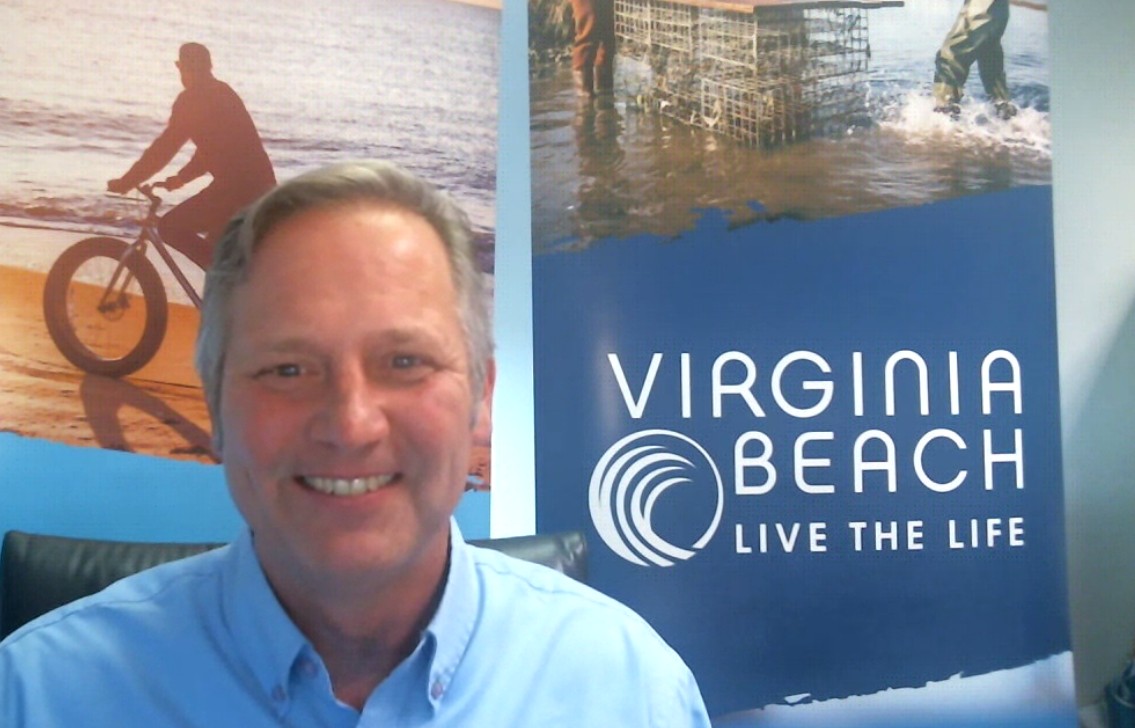 We sat down with Scott Warren, the Convention Sales Manager for the Virginia Beach CVB, for a chat about growing up in Virginia Beach, why it is special, and why military reunions will love it.
I wanted to start this conversation with your background. How long you have been in the industry and how long you have been in Virginia Beach.
Great, I'd love to share that. I was born, and raised here. I've lived here all my life, and like many, my dad was in the military. He spent over 24 years in the military in the Navy. When I came around, he only had two years left, so we didn't have to move anywhere. It was really the military that brought us here and we never left. It's been a wonderful place to grow up.
I started as a special education teacher. Being a teacher, I had my summers off. I was able to work part-time with our special events office and our Convention Center as a duty manager. A full-time position opened in our Special Events office. They do permits for the parades and different activities, runs, festivals and things like that. I've worked with them for a number of years. We started a sports marketing unit and I worked this market for a while focusing on bringing sports groups, amateur sports groups into the area. From there, we opened a Convention Center. I did sales for them, for several years, and then I was given the task to manage our visitor centers. We have three visitor centers throughout the city.
All this experience gave me a good background on things to do, and what to do about their attractions and restaurants, and that brings me to my current position as a Commissioned Sales Manager, where I'm responsible for the military reunion market, and love it.
You know, I hear sales people say this is the one market that they fight to keep when they're restructuring what their sales focus is going to be.
And it is absolutely, it's to me, it's the best one. I mean, you meet some phenomenal people and help our veteran community. They really, really appreciate it with the military Reunions.
What has it been like for you to work with military reunions?
It's been eye opening, you know, I have 21 years' experience in the industry. I've only been doing this for a couple of years for military reunion market, but luckily, you know, I have the great hotel support staff and then our convention services staff.
My dad, being in the military would go to his reunions and invite me to go with him, but I missed that opportunity. I'm sorry, I didn't go now, because I find the military reunion market is a core group of people. It is that special bond that's developed when you are in the military. The military reunions helped keep that bond going. Meeting again to get that support, to have those guys around, and ladies around you as well, and be able to educate your family members with it, too. They have their support group, and when you're down, you have those people you can call on, so I think the military union market has that already naturally created. They do it well. It is true that they are a family.
Let's talk about Virginia Beach, because it is such a cool destination.
Ok, we're located on the East Coast, in, the south right on the boarder of North Carolina on the Atlantic Ocean in the Chesapeake Bay. So it's a southeast corner of Virginia, about 3.5 hours south of Washington DC and 3 hours north of Raleigh, North Carolina. We are pretty centrally located the mid-Atlantic.
Our airport is Norfolk International Airport. All the carriers fly out of there. We just added a new company called The Breeze, which has some direct flights to Columbus and other destinations as well. We also have service by Amtrak as well.
When they get there, what are some of the top things that you can think of, that are popular that military reunions in the past have really liked.
We have a wonderful military aviation museum. What's unique about this museum is that there are recreated or refurbished, WWI and WWII, planes that fly. The owner has imported a water tower from England, that was around in WWI, and a hangar from World War II. He moved a girder on the hanger and found somebody's initials and the dates they were there. It's a cool, unique venue, that the all the planes fly. You can go for a ride in one if you want. They can clear out the hanger and have a reception too. It's one of those things we are really happy to have here. There's very few in the country like that.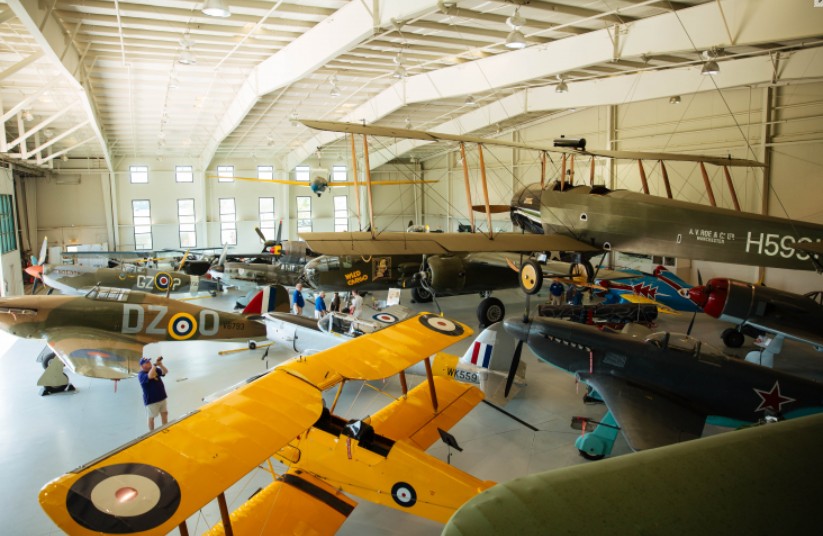 We also have a world class Virginia Aquarium that takes people out on dolphin cruises and believe it or not whales as well in the wintertime. They are migrating January through March.
We have historic houses from back to the 1700's. One of the first lighthouses federally funded was built in Virginia Beach the Cape Henry Lighthouse. It's one of the few places you can see three Lighthouses from one point. The original Cape Henry, a "new" one built in the late 1800's and the lighthouse at Cape Charles across from the Cape Henry. If it is clear, there is a fourth lighthouse out on the Chesapeake Bay.
A great day trip about 25 minutes from us, is to Norfolk, our sister city.  They have the worlds largest naval base.  
Of course, there is also our beach and the three mile boardwalk. There's a lot of activities we can help you craft your own personalized itinerary.
Should we talk specifically about the crab, by the way? Oh yes, Maryland has crab, but they come from Virginia. They all stay on our side, and then when it comes mating time, they start moving to the Maryland side. They actually all born in Virginia but great blue crab!
I know that when military reunions go to Portland, Maine, they have a lobster feed, and can they do the same with the crab down at Virginia Beach? Is there a season or can they do it all year? Usually a season, so when water starts warming up about June, to maybe about October that's the main timeframe. The crabs molt leaving a soft shell. That's really the first part of it and then they get their shells and by July, they're really hitting hard. They kind of die down between September and November, but it's fun when they're coming in and definitely we can do something like Maine to have a little crab feed where we put down a newspaper and just make it really authentic with corn all that stuff. Having a crab feed during the reunion creates amazing memories for attendees to talk about for years to come.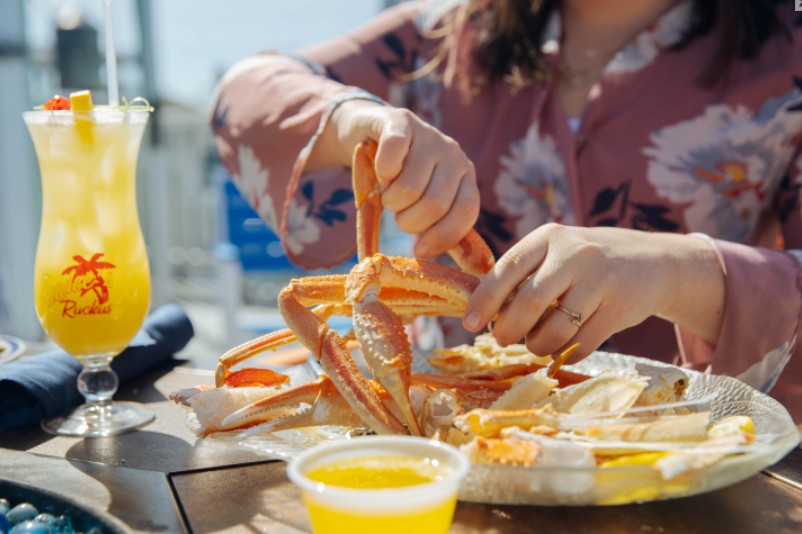 When a reunion planner is thinking about coming to Virginia Beach, what are best practices you would recommend? What is the timing of when to reach out to you and start that Request for Proposal process?
Anytime you reach out to us, within a year, things, are starting to get booked up. So, the sooner you can get start planning the better. I've worked with groups 2-4 years out. If I don't get something on the books soon, it's going to be filled up with something else.
Keep in mind that our busy season is Memorial Day to Labor Day. I'm not saying you can't come during those times, but to get more value for your rate, if you can come in the fall, the winter, early spring, we'll probably get a better rate and bigger block room for you as well. And living here, I loved the fall, the end of September, October, November time, the tourists have gone. You kind of have the place so much to yourself and plus mild temperatures, as well.
I suggest you giving us a call just to get the lay of the land. We don't charge anything for you to inquire about available dates. We can assist with helping to avoid busy conference times. I just want to listen to what reunion planners needs are and help them meet their goals.
With COVID19 right now there is such a huge issue with staffing at hotels. Have your hotels been able to navigate through this crisis?
Yeah, that's a great question. We've been very fortunate; we have a good workforce here. But yeah, it is a challenge. I've been talking to my director of sales, who I couldn't get a hold of one day because, they, were working other departments. They're going out, stripping the guestrooms, cleaning them and making sure everything's ready for the next guest to arrive.
The show must go on, but there are some challenges with, not only our hotels but restaurants as well. The wait time might be a little bit longer. You might not get there early, check in. They're doing what they can.
When you were talking about your busy season being Memorial Day to Labor Day, so many military reunions are held September to late October. I think that this is such a fantastic fit for them, because they get the beach almost all to themselves.
Scott Warren can be reached at the
Virginia Beach Convention Visitor Bureau
2101 Parks Ave Suite 500 Virginia Beach VA 23451
757-385-6654
visitvirginiabeach.com