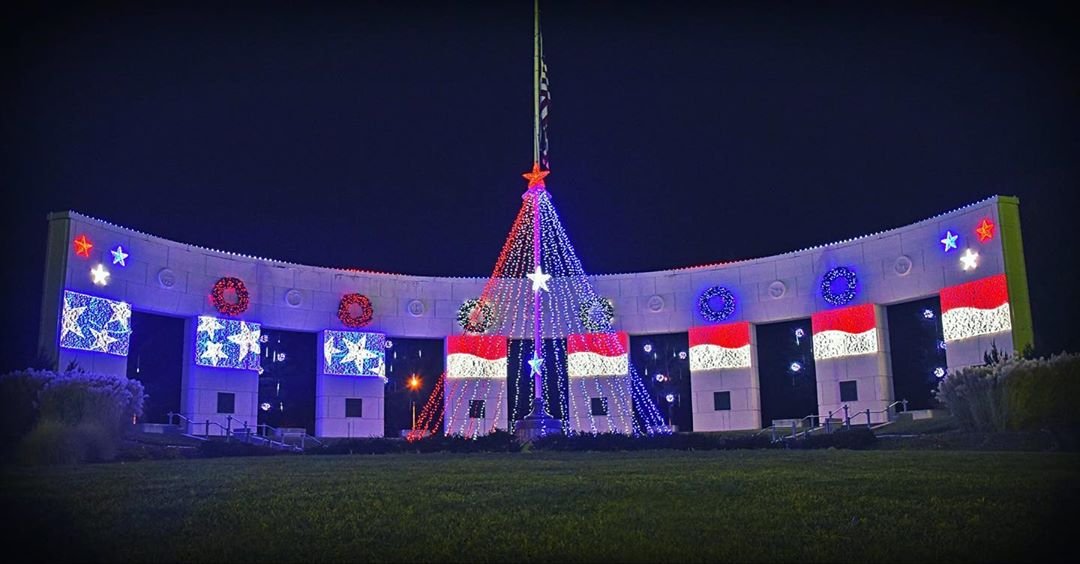 MRN had a chance to sit down with Jessica Settje with Visit Omaha.
When you think of Omaha, what comes to mind? Steak? The middle of our great nation? Both are correct – however – what many do not know is Omaha has a vast military history. Founded in 1854, the city of Omaha has always been a dynamic, energetic city, continually transforming itself. Home to Stratcom, Offutt Air Force Base and the Strategic Air Command and Aerospace Museum, military reunion planners find that Omaha speaks their language and offers a memorable place for military men and women to gather. Ranked as one of America's top cities with a population under one million by Resonance Consultancy, Omaha is also invested in the future. Billions are being spent on development throughout the city, including a $1.7-billion transformation of Omaha's downtown riverfront convention district. The 90-acre project includes many "wow" features such as a new STEM Science Center, botanical gardens, an urban beach, and sprawling green space with retail shops and park-side cafes. Before you bite into one of our famous steaks, let's take a tour of five of our unforgettable stops for you and your fellow comrades.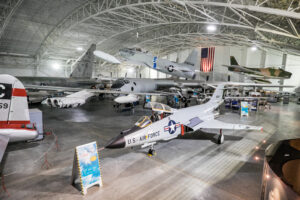 We head first to STRATCOM. Located at Offutt Air Force Base, STRATCOM is the U.S. military's eyes, ears and muscle. One of nine unified commands in the Department of Defense, STRATCOM is where U.S. President George Bush headed immediately after the 9/11 attacks. The base is named after 1st Lt. Jarvis Offutt, Omaha's first World War I air casualty, and is located at former Fort Crook. Offutt AFB is also the host of the United States Strategic Command's headquarters, the Air Force Weather Agency and the 55th Wing. The Air Force Base boasts a 12,000 combined military and civilian workforce and supports more than 22,000 additional family members.
Our next stop is a tribute Maj. Gen. George Crook. General Crook was a Civil War Veteran and the Commander of the Department of the Platte from 1875 to 1882 and headquartered at Fort Omaha. Fort Omaha was first home to the United States Army from 1880 to 1947, then the United States Navy from 1947 to 1972 and is currently home to Metro Community College. Many of the original buildings are still standing today. One of the buildings of significance is the General Crook House Museum. The General Crook House Museum is an 1879 Victorian Mansion that has been restored to its former glory with period furniture and is listed on the National Register of Historic Places. The home welcomed General and Mrs. Ulysses S. Grant and President Rutherford B. Hayes while General Crook lived there. Once Gen. Crook left the home, it served as a home to future commanders of Fort Omaha.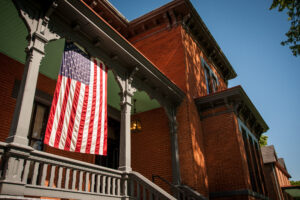 Next, we move on to explore the Strategic Air and Space Command (SAC) Museum. The SAC Museum is a 300,000 square-foot facility located about 20 minutes outside of Omaha. It's a unique facility dedicated to some of the nation's most prized and rarely displayed military aircraft. As you enter the glass atrium, you are greeted by a SR-71 Blackbird. Our SR-71A has the third highest flight hours of its fleet. As you browse the museum, you also come across the massive B-36J "Peacemaker." In a tribute to World War II, the SAC museum is the home to both B-29TB "Superfortress" and B-25N "Mitchell" aircrafts. The final aircraft worth viewing during your visit is a U-2C "Dragon Lady." Our U-2C was nicknamed "The Saint" while serving with the Air Force thunderstorm research program.
As we take a moment to honor the veterans we have lost, we visit Memorial Park. Memorial Park is the home to monuments honoring men and women of the armed forces who were killed or missing during service in World War II, the Korean War and Vietnam. Take a moment of silence while strolling around the All-American Rose Society Garden adorned with over 1,000 rose buds.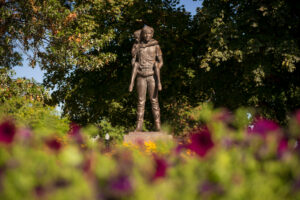 The next tour stop is the Boys Town Campus. Boys Town began with a group of five young boys that Father Edward Joseph Flanagan rescued off the streets of Omaha. He welcomed these boys into his home in downtown Omaha in 1917. This was the beginning of Father Flanagan's Home for Boys, and only a few months later, 100 boys were living with Father Flanagan. A few years later, Father Flanagan purchased Overlook Farm, the current location of the Boys Town Campus. In 1936, Boys Town became an official village in the state of Nebraska, including its own zip code and post office. Today, Boys Town is one of the largest nonprofit child care agencies in the United States. As you explore the campus, you are able to walk through the Hall of History and learn more about Father Flanagan, the boy's under his care and their journey throughout the years. You can drive past the homes where children in need live with host parents right on campus, and discover how Boys Town advocates for the youth across our country.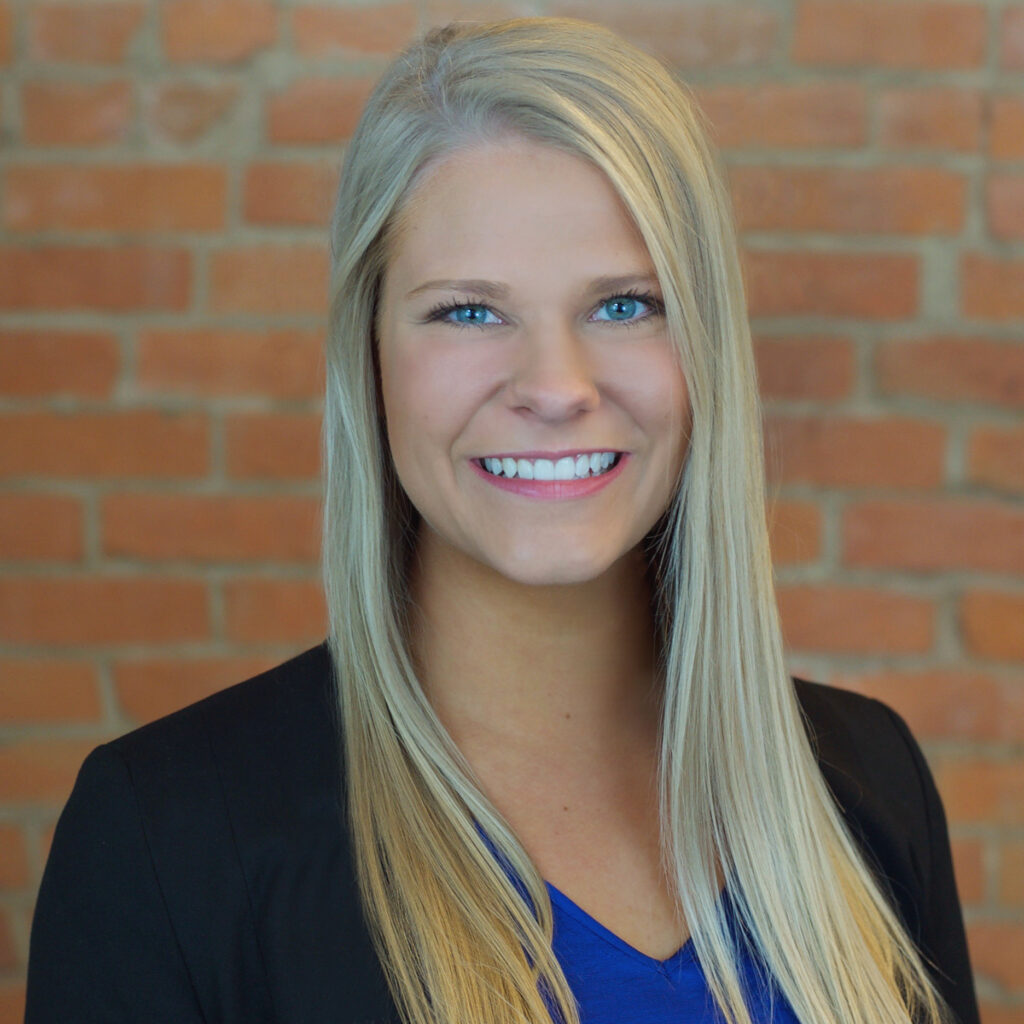 The final stop is a visit with Jessica Settje, Tourism Sales Manager of Visit Omaha. Since joining the Visit Omaha team in 2018, she has had the privilege of working with some amazing reunion planners. She finds great joy in hearing all of the stories they have to share. She said, "I have gained a lifetime of knowledge from these stories, and they remind me of the many adventures my own grandfather has shared with me of his experiences while serving in the Korean War. As a POW camp guard, he certainly has plenty of wild tales. My personal favorite story of his was when he met my grandmother only weeks before his first deployment. The next opportunity he had, he returned home and married her after only knowing each other for three months." She can imagine many of the Veterans she has worked with may have a similar story of love and war tangled together.
She closed our conversation with an invitation, "I long for the day when I am able to welcome you into my city, treat you to an Omaha Steak and soak in all of the knowledge you have to share." Want to learn more? Here is Jessica's contact information.