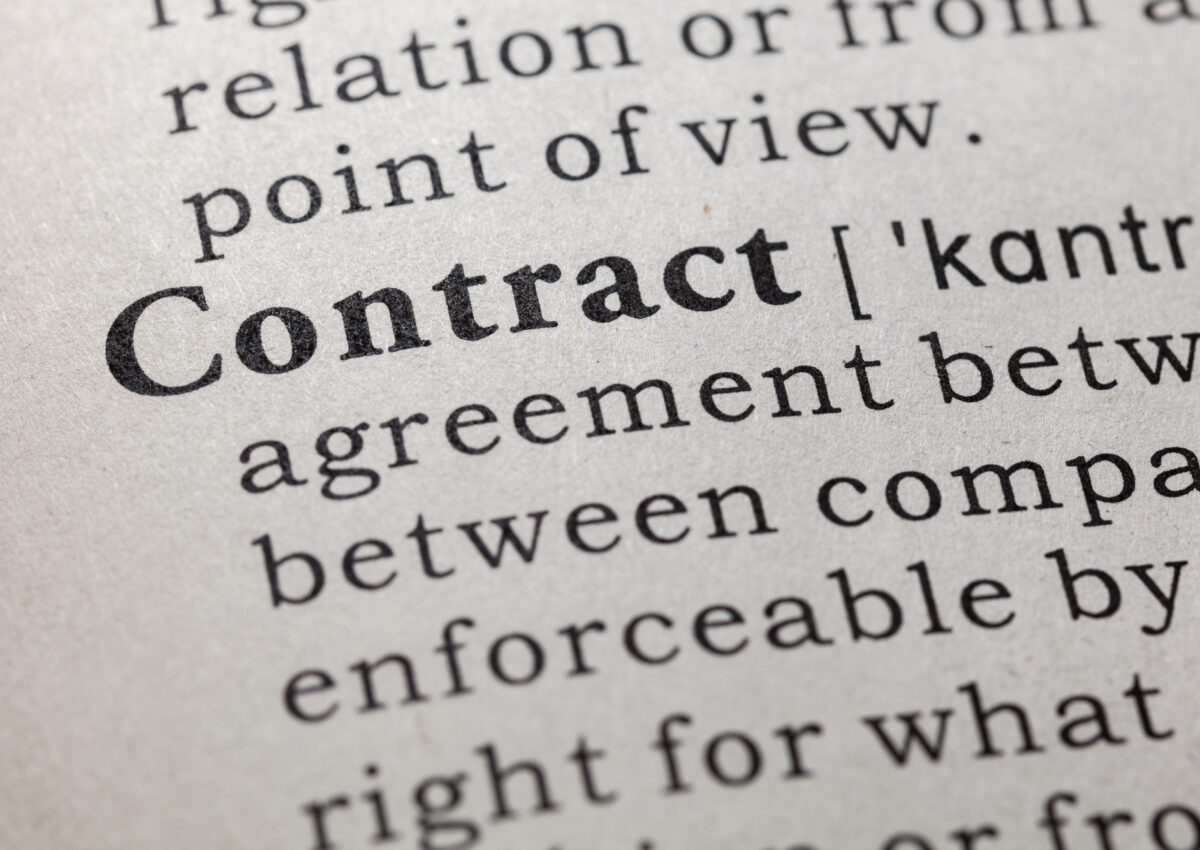 On February 15th, MRN Radio Host, Sharon Danitschek and guest, Joan Eisenstodt sat down for conversation about hotel contracts. What follows is an excerpt from that conversation.
Please seek legal advice from an attorney before signing any agreement.
Joan Eisenstodt has owned her own company, Eisenstodt Associates, since 1981. She began as a full-service meetings company handling all aspects of the meeting process. Her passion for contracts developed after being sued in 1984, after a client elected to cancel an event due to several issues specific to the event execution. "They were sued. I was individually sued, and my company was sued. I spent a lot of time with the attorney that they hired, who was at that time, also the attorney for what was then called the Convention Industry Council, now, the Events Industry Council, and I've learned a lot from him." Joan now testifies as an expert witness in contract disputes for groups and hotels. She said, "I came away from that with this philosophy. The importance of having a solid contract is the foundation for the relationship, for the event, for all the things that need to happen."
Sharon Danitschek The Military Reunion Network
In this age of technology, many salespeople merge contact information into a contract and send it out for signature. You and I have seen significant errors not only in things as simple as different fonts, but also contract language in one section conflicting with another section. We thought we would talk about the tips to create a good, balanced contract.
For purposes of our conversation, I would like to divide the topic into three sections:
The contacts that need to be included
Event dates, rates, and space.
The clauses or fine print
Sharon Danitschek The Military Reunion Network
Let's talk about contacts that need to be on the contract and the importance of and value of each of the players that are listed.
Joan Eisenstodt
What's interesting is that when you see the name on the door of a building, you assume that's who you're contracting with. You are, in fact, contracting with the owners, doing business as the name on the door. Now, you have owners. You also have potentially a management company, and then you have the brand. It is a complicated relationship. To simplify it, it is the name of the owners doing business as the name of the hotel. The name of the venue, and then the name of the reunion. The tough part for military reunions is some are incorporated and some are not. A key point is even if you are incorporated, it does not mean you cannot be sued if something goes wrong. You want to make sure you at least know your potential liability, and who else would be party to any dispute. I go into all negotiations thinking fairly. I want to make sure that all the parties are covered so that they are protected in every way. Clearly, I would like different protection for my client, as opposed to for the venue, and yet it has to be equitable.

Sharon Danitschek The Military Reunion Network
The contract has to be equitable and as a reunion planner, you should not sign anything that's going to negatively impact you or your reunion.
Joan Eisenstodt
The best way to understand what you are being asked to sign is to ask questions. I think that one of the things, for me, is there are no bad questions. People want to ask questions but, we think we are supposed to know stuff. And I can tell you that we do not, especially if you are doing something that is new. Reunion Planners are in this situation all the time. Planners should use phrases like "tell me more about that", or "what exactly does that mean?".
Sharon Danitschek The Military Reunion Network
We should also point out one of the most important things about a contract is that everybody interprets it the same way.
Joan Eisenstodt
And what's interesting is we don't and that's one of the reasons to ask questions because language is tricky. We all think we know what words mean, there is a lot open to interpretation. And so that is partly why my contracts are long because I want to spell out what these words mean.
Sharon Danitschek The Military Reunion Network
Let's shift gears to the events specifics. You know, the dates, rates, and space of the reunion. Let's talk a little bit about best practices for that sort of section.
It really bugs me on hotel contracts when hotels will say run of house and everything is one rate. There are several different definitions of run of house. Isn't it better to take the time to spell it out even if the rates are the same?
Joan Eisenstodt
The other thing that is one of my favorites is, view rooms. Do you get a view of the ocean or do you get a view of the dumpster? So, when they say there is a term called "partial ocean view", I always describe it as if I put my body out the window and turn it all the way to the other side, I might see the ocean.
So, you must be very careful. The tough part is also that so many hotels have many different room types. Add that it's impossible not to talk about COVID19 right now and hotel deep cleaning policy. After a guest checks out, there is a deep clean of the room. In some cases hotels are not allowing occupancy for another 48 hours. The room sits empty.
This goes back to asking the questions. How long has this been in effect? And what does that mean for my reunion? What does that mean for the number of ocean view rooms you have agreed to. It can be really tricky now.

Sharon Danitschek The Military Reunion Network
Let's talk about the meeting space and the importance of having the name of the room you are to receive on the agreement.

Joan Eisenstodt
And a diagram! Hotels do not want to commit the names of the space because what they are hoping to do is to sell that space around your event and I understand that. And right now, more than ever, it is critical to ensure that they have that flexibility. That said, we are choosing a hotel for a reunion in part because of the meeting space. It may have a view or walk out to a patio, and we want that specific space. That is number one, you negotiate the space you need or want.
The second thing is, the timing and use of that space. So we go back to the beginning of this, where we talked about, when you need that space, what times do you need it? If you need it on a 24 hour basis, because people are going to go in and out and you want to leave things in the room, that's another issue on safety and security. And what you want to do is specify the room, the room name, the times of use, and then I like including a diagram of the space and circling the rooms on that.
You have language in your contract that says the hotel must obtain your approval in moving your reunion meeting space. The COVID19 piece works the same way as guestrooms, in terms of cleaning and occupancy. Reunion planners need to be aware that not only are states different in their policies, but counties are as well.
Sharon Danitschek The Military Reunion Network
Within this section of the event specifics, Joshua Grimes, a hospitality industry attorney, made the recommendation for Military Reunion Planners to have an extremely specific definition of the group and an overall statement of the way that the group interacts. He suggested an event definition, saying military reunions are getting together with the purpose of going to see attractions of networking within the safest distance possible of sitting around tables as with as many as safely can sit around a roundtable. That definition becomes critically important if a county shuts down or a city shuts down, and the attractions have shut down again. It is important in the event the hotel cannot, based on COVID19, service the reunion.

Joan Eisenstodt
It gets not only into the purpose of the event, how the space is used. It also gets into how the hotel will staff for it. So many hotel staff were furloughed or let go from their jobs. The other issue is if there are enough tables and chairs in inventory to support the reunion. If only 4 people to a round table are allowed, you need more tables. Will the hotel have them?

Sharon Danitschek The Military Reunion Network
The last section of the contract is the clause section. What I mean by that is the policy language that runs throughout the document. We also need to discuss a term I use called "clause pong", which means the language in one section of the document needs to support another section instead of conflict with it.

Joan Eisenstodt
We should also mention a new trend is to list polices that reside on a website or separate pdf document with only the electronic link as a reference in the document reunion planners are signing. Back to your "clause pong", often, their policies, disagree with their contract language.
So, a couple things that also go on for many years now, is menus now are linked. The problem is, unless you are contracting something today for tomorrow, all of that could change by the time the reunion happens. Therefore, the link will not be what you thought you were agreeing to. What I do, and this adds huge numbers of pages, is print all that out. We print out the policies. We print out the menus, we print out anything that is now a link on the contract so that there is a hard copy that we all have agreed is what we will abide by.

Sharon Danitschek The Military Reunion Network
Going back to the conversation with Josh about COVID19, force majeure is defined as anything that is, unforeseen that makes it impossible or illegal to move forward with the reunion. What he is suggesting now is to create a brand-new clause in your contract that talks about what steps to take in relation to the current known pandemic. That is the difference from force majeure, we know COVID19 is here. The COVID19 clause would outline what happens if there is another spike for example and things close again, or the hotel is so limited on service that they cannot successfully support the reunion. This is where the reunion definition on the contract is important.
Joan Eisenstodt
I would use the official scientific name of the pandemic in the clause not the common terms of COVID19 or Coronavirus. Here is the thing with a COVID19 clause. It is not only about whether the the reunion can happen at all. It is also all the issues and impact it has on use of space, guestrooms, food and beverage service, in the meeting space and restaurants. I have a client this last year who's meeting was to be this past October.
And so, last, February, March maybe we started trying to figure out what to do, what they were going to do, as time went on the, you know, back and forth about having it. We got the menus from the hotel that were significantly different than what they have been. So, COVID affects everything. If you're going to have a COVID clause around not having the reunion, that's one thing. But there are all of these other issues that COVID touches.

Sharon Danitschek The Military Reunion Network
I think Josh's point was to be able to identify, and agree to language that will help both parties, navigate moving forward in the event the COVID levels change making it more challenging to hold the event at the numbers previously planned.
Sharon Danitschek The Military Reunion Network
Moving to the attrition clause. For years reunion planners were told to go somewhere else if there is an attrition clause in the agreement. In my training classes with reunion planners, I tell them there must be language in the contract about attrition, otherwise, what you contract for you could be responsible for. The language needs to be balanced and fair.

Joan Eisenstodt
I said earlier, that, by law, you are responsible for everything you have committed to in the signed contract, That's number one. Number two is you do not have to have an Attrition Clause in the contract. If you contract for 100 rooms, you pay for 100 rooms. Number three. An attrition clause spells out the specificity that you negotiate for your reunion.
So, in other words, if the hotel attrition clause makes you responsible for 90% of your room block, and some dollar amount of food and beverage make a change to the language. Say, we would like to renegotiate the attrition clause terms. I will not even attempt to give what I think would be fair terms because it depends on the reunion. There are too many variables about what is fair and reasonable, it is hard. Obviously, the reunion would like to not have to pay any fees for the people who cannot get there. At the same time, the hotel needs to be made whole for rooms that they blocked, and they are holding for you.
With COVID19, we do not know anything. I believe strongly that safety is the main thing. I want to be able to say these are the things that will keep people safe, and we don't know yet, what will. So on attrition, I wanted to be honest and say to the hotel, here are the issues that may cause us not to have a reunion. Maybe when we plan for 75 people and we now know it could be 45 people, but we want to go forward with 45. We cannot afford to pay you for all those rooms. So what can we do together to make it work? It is not going to be easy. Everything I am seeing and negotiations right now for this year is that hotels need to make money. I look at the number of hotels that have closed, and we know we are going to see more. They cannot bring staff back to service our events until they have the money to pay them. Attrition is one of those issues.

Sharon Danitschek The Military Reunion Network
Shifting gears, lets talk about the simple things in a contract. We tell planners not sign a contract that does not have specific dates, calendar dates, and times, ie July 1st by 5:00pm eastern standard time, versus 60 days out. Do not sign contracts that do not have dollar amounts, when and wherever possible. And I want reunion planners to feel empowered to sit down with their contracts when they receive them, and make corrections and send them back for a clean copy. To our hotel partners, you'll be doing yourself a great service if you go through your contract and put in the right dates and times and dollar amounts prior to sending it out the first time.
Joan Eisenstodt
The tough part is for hotel salespeople, is that they are taught by their legal counsel, that this is the contract they should use, and they should do percentages and dates out, and I know that. I think that, in our world, yours and mine, that if we could get the industry to be smarter about this, it would go a long way.
Joan Eisenstodt
I think that reunion planners are questioners now. And it's the time to ask lots of questions, for physical safety, emotional safety, and fiscal responsibility.
Sharon Danitschek The Military Reunion Network
We need to give every Reunion Planner permission to question, change and add clauses that best support your reunion. You do not have to accept the document that is presented to you.
The other thing we need to think about are the protocols reunion planners put in place for their reunions. If they tell attendees everyone will be wearing masks regardless of the policy at the hotel, they must follow through and do it. Reunion attendees are making decisions to attend based on safety protocols. The safety protocols must be carried out during the reunion. Planners may become the "mask police" to be sure attendees are following protocols.
Joan Eisenstodt
It's a very big issue, and I think that guidelines and mandates, are different everywhere. It becomes a great responsibility for the reunion planners.
I think the tendency of reunion is to hug people but It's not OK to do that right now. Reunion planners are faced with the question of do we hold the reunion or not. Do safety protocols take away from the ability to interact. Here is an example. I'm older now, so my hearing is not great in my left ear. To be six feet, apart, with two people masked and to hear a conversation or to have a private conversation is almost impossible. These are all issues that have to be considered as well as food and beverage.

Sharon Danitschek The Military Reunion Network
That's my point. If you state you are going to hold the line on specific safety protocols when you are promoting your reunion to attendees, you have to hold to that specific protocol for the reunion. As much as you want to give people hugs. If you say attendees can't then you have to hold that line. It's an added responsibility for planners to be sure. Here are the quick tips
Contract Quick Tips:
Ask questions about any contract language you don't understand and keep asking until you do.
Do not sign an agreement under pressure
Include meeting room names in the agreement with a diagram.
Use dates, times and time zones wherever possible. (90 days out becomes July 17th 2021 5:00pm Pacific Time)
Use dollar amounts wherever possible (80% of the deposit becomes $850.00)
Define your reunion requirements (socialize together, visit attractions, be in close proximity etc)
Create a COVID19 Clause that details what the reunion and hotel will do if COVID19 comes into play at the time of the reunion.
Negotiate contract language if you do not agree with what is presented to you.
Work with your hotel partner to create language that is fair to both the reunion and hotel.
Create the safety protocols for your reunion and carry them out while the event is happening.