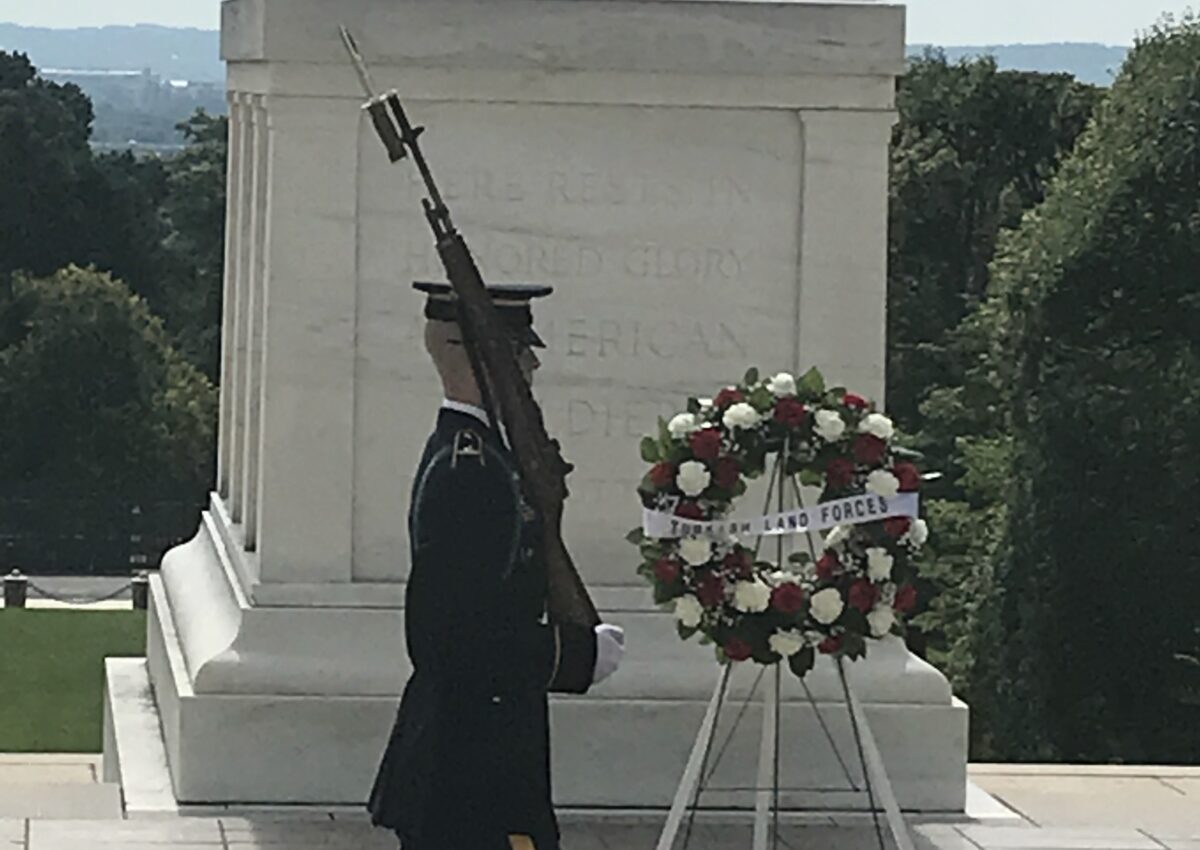 Absolutely Arlington!
Arlington has an unmistakable connection to the U.S. military. Not only is it home to Arlington National Cemetery, but the county is also where the Pentagon, the helm of the U.S. Department of Defense, is located.
Arlington also hosts Joint Base Myer-Henderson Hall, home to several regiments of the Armed Forces including the 3rd U.S. Infantry Regiment (The Old Guard). The Old Guard is the Army's oldest active-duty unit, honoring fallen comrades in arms and conducting ceremonies. Explore Arlington's military sights and visit veteran-owned businesses with this one-day itinerary.
Just across the Potomac River from the nation's capital, Arlington offers meeting attendees and groups incomparable views, rich history, and thriving neighborhoods. With more than 40 hotels – all just minutes from Metro – Arlington is conveniently central to businesses and attractions throughout D.C., Maryland, and Northern Virginia. By meeting just across the river from Washington, D.C., you'll discover average daily rates up to 20 percent less than those at many downtown hotels – with the same great convenience and amenities.
Renowned for its smart growth approach to urban planning, Arlington combines the best of big-city amenities with the warmth and charm of lively neighborhoods. Ranging from boutique accommodations to full-service hotels, Arlington offers an array of styles, facilities, and service options to suit any meeting.
You'll also discover in Arlington a unique combination of national history, local culture, and unexpected fun. From treasured attractions like the Marine Corps War Memorial (Iwo Jima), Arlington National Cemetery, the Air Force Memorial, and the National 9/11 Pentagon Memorial, to our stunning skyline and lively urban villages, Arlington truly has something for everyone. Arlington's shopping has you covered with Nordstrom and Macy's to funky, one-of-a-kind boutiques. From diverse global cuisines to familiar American favorites, Arlington restaurants have exactly what you're craving. Options range from casual to white-tablecloth, intimate spots to large venues.
Military Sites
Arlington is best known as the home of Arlington National Cemetery, the tranquil resting place for more than 400,000 active duty service members, veterans, and their families. "Service to country" is the common thread that binds all who are honored and remembered here. There are many notable memorials and gravesites including the Tomb of the Unknown Soldier, the Challenger Space Shuttle Memorial, and the gravesites of John F. and Robert Kennedy. Make time to witness the Changing of the Guard ceremony, performed by the U.S. Honor Guard.
At the entrance of Arlington National Cemetery, the Women in Military Service for America Memorial honors all women who have served courageously, selflessly, and with dedication. It is the area's first memorial to honor all women in the military and the only major national memorial honoring all women who have defended America. The memorial recently revealed a new monument, a life-size sculpture titled The Pledge. The monument, featuring a servicewoman and military working dog, honors the commitment of all brave servicewomen. Also, The Pledge is the first monument in the nation to honor female military working dog handlers.
Less than ten minutes away is one of Arlington's most photographed memorials, the Marine Corps War Memorial. It is one of the largest cast bronze sculptures in the world with its 32-foot-high figures sitting atop a gilded granite base. The magnificent memorial was based on an iconic, Pulitzer Prize-winning photo of the second flag-raising on the island of Iwo Jima during World War II. Often called Iwo Jima, the memorial affords panoramic views of the Washington, D.C. skyline and sights, including the Lincoln Memorial, Washington Monument, and Capitol Building.
About a few minutes away, located on a beautiful hillside vista, the Air Force Memorial honors the service and heritage of the men and women of the United States Air Force and its heritage organizations. Three stainless steel spires soar into the sky from the promontory reaching a height of 402 feet above sea-level. Granite walls contain inscriptions describing the valor and values of aviation pioneers supporting the Air Force and its predecessor military organizations.
Getting Around
Home to Ronald Reagan Washington National Airport, Arlington is also within easy reach of Dulles International Airport, Baltimore/Washington International Airport, and Washington's Union Station. Just minutes by bridge or Metro from the National Mall, Smithsonian Museums, and other Washington, D.C., attractions, we're served by 11 convenient Metrorail stations on the Blue, Orange, Silver, and Yellow Lines.
Arlington Convention & Visitors Service (ACVS) is here to help!
ACVS is here to help you make your meeting or event an unqualified success. Services include Familiarization Tours, Hotel Bid distribution, site inspections, promotional information and photography, service-provider referrals, organizing local motor coach parking, on-site convention services, self-serve information display, welcome bags. Feel free to reach out to our Director of Sales: Portia Conerly click here for her contact information
Testimonial
Jim Weiskopf, Vice-Chair, Honor Flight Savannah opted for Arlington because…
• Proximity to the war memorials, which are in Arlington, Virginia, and Washington, D.C.
• Ability to get discounted rates for weekend stays
• Within walking distance to restaurants, precluding having to use a bus for the group